Shock employs a patented adaptive equalization technique. Not a "Once per test", amplitude only correction,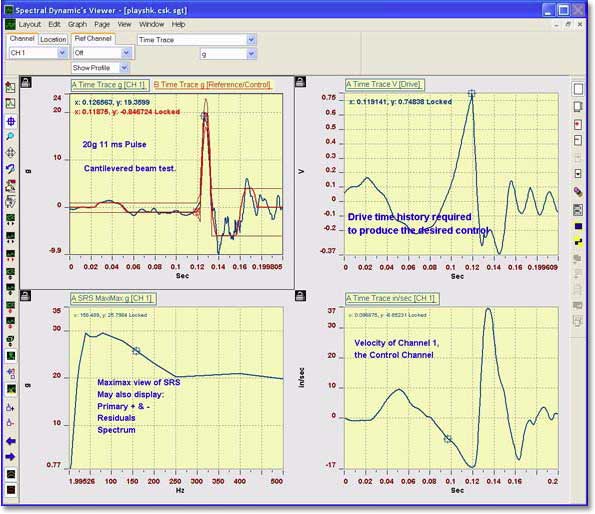 but "adapts amplitude and phase" on every shock pulse to correct for non-linear conditions on both hydraulic and electrodynamic exciters.
Features:
Pulse Types: Half-sine, sawtooth, trapezoidal, rectangular, and imported waveforms
Belcore VERTQII seismic waveform
Output frames up to 16,384 samples
SRS analysis to 10 kHz on all active measurement channels
SRS calculation (Maxi-Max, Primary+, Primary-, Residual+, Residual-)
Manual or automatic operation with level scheduling
Sophisticated drive compensation management to decrease equalization time for repetitive tests
Direct Office links with PDF creation permits fast report generation
The ability to employ true random energy for FRF Calculations provides excellent system identification.
Provides the ability to use pulse, broadband random, or band limited random for the best system identification and accuracy.
---
Classical Shock Product Brochure & Technical Specifications
| | | |
| --- | --- | --- |
| (click to expand) |   |   |
| |   | |
|   |   | Download as PDF |