STAR Modal
STAR Modal is a comprehensive structural analysis package for Microsoft Windows 10.  Bringing together the latest technology in structural testing, user interfaces and graphics, you can test, analyze and present with confidence and ease.
Each of its dynamic analysis methods illuminates a specific aspect of the structures dynamic behaviour.  Built-in animation capabilities let you clearly visualize structural behaviour and identify problems.
Key features include:
Modal Analysis

Time Domain Analysis and Animation

Operating Deflection Shapes

Multi-Reference Curve-Fitting.

Modal Assurance Criterion.

FRF Synthesis

Structural Dynamics Modifications.

Forced Response Simulation.

Sinusoidal Response.

Measurement Calculator

Geometry Tools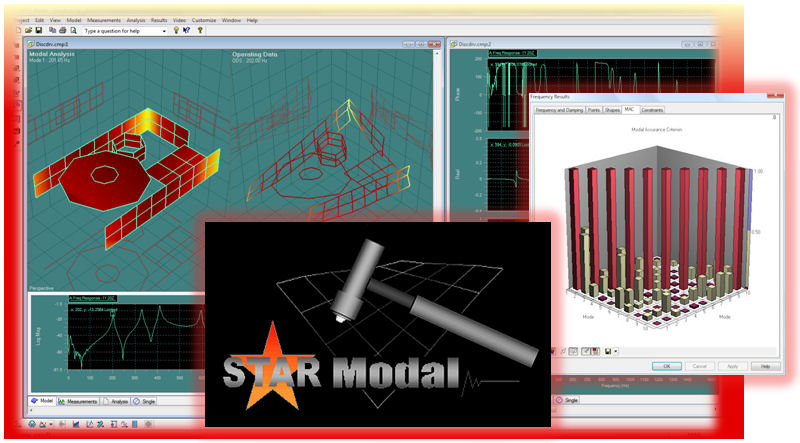 Introducing STAR 7 Modal Analysis
Intuitive User Interface: Designed for Windows 10.
Project Database: Allows you to manage all test files including documents, images, and videos.
Fully Interactive Displays: Permit you to select and analyze FRF's, Mode Shapes, and results at the touch of a button.
Powerful, new Analytical Features: Use ODS to decect unbalance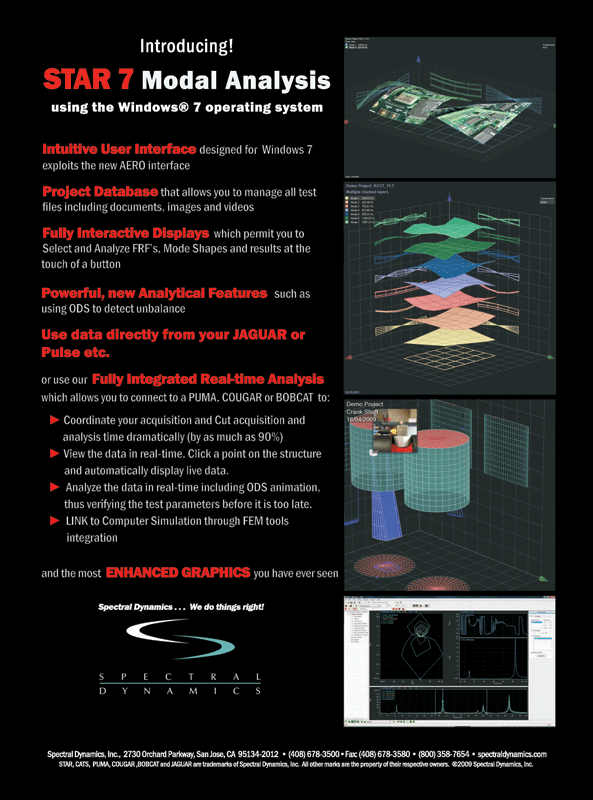 Tailored to suit your needs...
Whether you are testing small, large, simple or complex systems, STARModal™ can be configured with the right options for you.
Educational:

Provides a low cost modal analysis solution ideal for demonstrating the concepts of modal analysis.

Modal:

  A very powerful modal analysis solution for small to medium sized structures.

Premier:

The complete package for large or complex systems.  This option also includes structural dynamic modifications.
Operating Deflection Shape Analysis: View a Structure's Motion at a Specific Operating Speed or Frequency...
Structural motion caused by external forces, gear chatter, imbalance, loose mounting, and other factors is easily analyzed and animated.
Modal Analysis: Analyze and Solve Structural Dynamics Problems.
Fully analyzing and solving structural dynamics problems require the power of modal analysis, which separates mode shapes from the overall dynamic response of the structure. The robust modal analysis features of the STAR7 System™ reflect over 15 years of technological leadership.
Advanced Curve Fitting: Utilize multiple references to ensure accurate estimation of your modal parameters...
The Advanced Curve Fitter of the STAR7 System™ is a special hybrid algorithm that uses Least Squares Complex Exponential (LSCE) and polynomial techniques to accurately estimate modal parameters on complex or redundant data sets.
Time Domain Analysis: See How a Structure Moves Over Time...
Animation of time history data shows the structure's actual movement over a measured time period. This is often the first step in solving vibration or motion related problems.
Evaluating your Results: There are a number of easy to use tools to check the quality of your analysis and help you better understand the results...